Contact Us
Tel: +86-575-8027 8858
Fax: +86-575-8206 7229
Mob:
E-mail:
info@seewayglove.com
ADD:No.3,Huawu Road, Xiaoyue Industrial Park, Shangyu District,Shaoxing City,Zhejiang Province,312367,China
Anti Static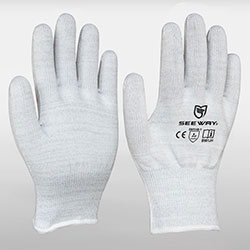 Made of special anti static nylon,the base material is made of nylon and conductive fiber, the glove has excellent elasticity and antistatic property.

It avoids the damage caused by the static electricity produced by the human body. It is mainly used in the electronics industry and the semiconductor industry.

Sorry,there are no data for the moment!