Tel: +86-575-8027 8858
Fax: +86-575-8206 7229
E-mail: info@seewayglove.com
ADD:No.3,Huawu Road, Xiaoyue Industrial Park, Shangyu District,Shaoxing City,Zhejiang Province,312367,China
General Work Gloves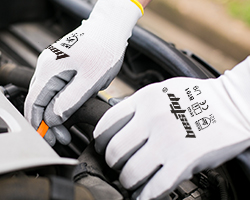 Palm Coated Working Gloves,Many people are asking why is it necessary to add a layer of coatings on string-knit glove palm?
The truth is, to offer a layer of protection while getting the same comfort.
We combined aramid, HPPE, stainless steel, cotton, nylon, polyester, acrylic and composite-yarn gloves with palm coatings. Like nitrile, PVC, latex, PU and foam version coatings.