Contact Us
Tel: +86-575-8027 8858
Fax: +86-575-8206 7229
Mob:
E-mail:
info@seewayglove.com
ADD:No.3,Huawu Road, Xiaoyue Industrial Park, Shangyu District,Shaoxing City,Zhejiang Province,312367,China
Latex Coated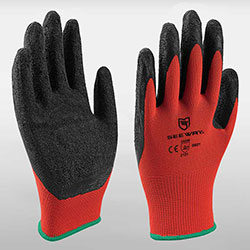 latex coated gloves,Latex in glove is normally used as coatings which serverd as a barrier material for gloves. It can be catagolized into natural or synthetic sources.
It's a product of a stable dispersion of tiny particles over liquid. Latex is very elastic and is of great grip compared with other coating materials,and it resists very much tear resistance.