Tel: +86-575-8027 8858
Fax: +86-575-8206 7229
E-mail: info@seewayglove.com
ADD:No.3,Huawu Road, Xiaoyue Industrial Park, Shangyu District,Shaoxing City,Zhejiang Province,312367,China
Impact Resistant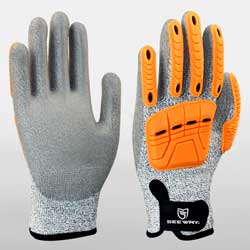 According to feedback from our customers, crushing, cut and puncture hazards make up most of the serious injuries sustained by workers, so the kind of gloves needed to protect workers are highly specific.

Back-of-the-hand impact protection, and most commonly, good grip in oily and wet conditions. Our impact resistant gloves feature dense thermo-plastic pads, placed along the back of the hand to provide maximum cushioning while not impeding hand functioning. And remember: the coating and TPR patterns are always available for personalization.

Sorry,there are no data for the moment!