Tel: +86-575-8027 8858
Fax: +86-575-8206 7229
E-mail: info@seewayglove.com
ADD:No.3,Huawu Road, Xiaoyue Industrial Park, Shangyu District,Shaoxing City,Zhejiang Province,312367,China
Nitrile Coated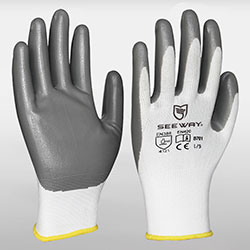 Unlike latex,nitrile coated gloves is 100% synthetic. It's strong and doesn't cause allergic reaction which promises a wide range of applications.
It may lack the inherent stretch and grip of natural rubber, however, it possesses unbelievable strength. It performs well in excellent resistance to puncture and tear.
The major difference between latex and nitrile is that nitrile works better in oil related works.